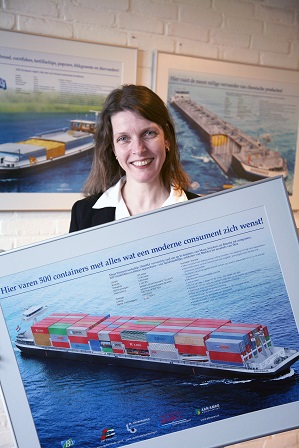 CBRB
Dutch Association for Rhine and Inland Shipowners
Maira van Helvoirt


Manager
Dutch Association for Rhine and Inland Shipowners
---
Vasteland 78
3011 BN Rotterdam
The Netherlands
T +31 (0)10 79 89 800

CBRB is the leading branche organisation for all segments in the inland navigation industry. CBRB-members vary from small shipping companies to large international logistic service providers, and are active in all inland navigation sub segments: container shipping, dry bulkshipping, liquid bulk/tanker shipping, passenger shipping, push barging, RoRo-shipping, (harbour) towage, special transports.
CBRB's mission is to strengthen the position of the inland shipping industry in general, and its members in particular. Furthermore, CBRB has an extensive network of associated members which have binding with the inland shipping industry, such as financial institutions, shipyards, law firms, educational institutions, suppliers, service providers and shippers. Together they broaden and strengthen the inland shipping network, thus unlocking the knowledge and expertise within the sector to all relevant parties. CBRB is a founding member of the European Barge Union (EBU).
The Dutch inland navigation fleet is by far the largest and most modern one of Europe: more than 8,300 of the total European fleet of 12,000 ships sail under Dutch flag. Their total capacity adds up to more than 9 million tons. 80 per cent of all bulk cargo and 35 per cent of all containers is transported to and from the hinterland by inland barge.
Apart from the Dutch cargo fleet, there is also a considerable fleet of passenger ships with over 1,200 day trip vessels, river cruise vessels and the more traditional style charter vessels. Their total economic impact equals €332 mln*.
Furthermore, over 300 ferry services in the Netherlands transfer more than 54 million passengers across rivers, canals and lakes every year, thereby avoiding 493 million detour kilometres, €8.9 million environmental costs and 154 casualties**.
One of the major items for the inland shipping industry is greening and sustainability. Inland navigation has always been a sustainable transport mode, and when it comes to CO2 inland navigation is almost invincible. But when it comes to NOx, SO2 and PMx, road transport is catching up fast.
That is why the inland transport sector embarked on a transition towards sustainability. First of all, by using more sustainable fuels such as low sulphur diesel, LNG and GTL. Secondly, by investing in new engine techniques, such as diesel-electric, hybrid, single and dual fuel. Pre- and after treatment (such as SCR catalyser, soot filter) are a means tospecifically reduce SO2 and PMx. Other propulsion techniques like O-foils and counter rotating propellers reduce fuel consumption.
Another major theme is the labour market and education, in combination with manning requirements. An agreement was recently reached with the European Parliament on setting up a common system of certificates for people working in the inland navigation sector in the EU. Holders of these certificates will be able to practise their profession on all inland waterways across Europe. The new system will improve career prospects in the sector and make it easier for qualified people to take jobs wherever they are available.
The improvement of the position of inland shipping companies in the logistic chain is also increasingly important. Innovative combinations of cargo volumes and different transport modes, depending on the requirements of the various shippers and their logistic processes, can lead to unexpected opportunities for cost reduction and subsequently to modal shift from road to inland waterways.
CBRB represents the interests of the sector in all relevant fields (technical, nautical, safety, working conditions, legal, et cetera), thus unburdening its members and creating the right conditions for them, so they can concentrate on running their business.
* C.J. Plaisier (2011) Passenger shipping: out of the blue, CBRB
** M. Hoekstra (2017) "Wel-varend", CBRB/LVP/VEEON